The following article is created under

ANIMEFREAK01
For the edition of this page, you must have at least one of the following criteria fulfilled.
You must have the permission to edit this page by ANIMEFREAK01.
You must have the permission of an admin to edit this page.
Other than that, if you are the Creator of this page, you are free to edit it. Do remember that this article could be edited any time by an admin for improvements.
If any of the above criterion are not fulfilled, and you continue with your edit, you'll receive a warning from any of the admins. Continuation of your edits will lead you to receive 2 more warnings. If you still continue with your edits after the 3 warnings,

you could be banned from the wiki

depending upon your edit.
Haylia Zent
Creator

ANIMEFREAK01

Bio-Data
Full Name
Haylia Zent
Nickname(s)
Hay

Hail

Age
11
Birth Date
17 July
Relatives
Hayden Zent ( Brother)
Data
Position
Midfielder
Element
Wood/ Wind
Team
The destinacles

The Raimon 11

Number
14
Haylia is Hayden's sister.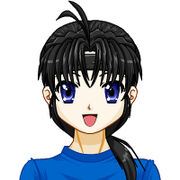 Appearance
Edit
Haylia has medium, black hair, with dark blue eyes. She wears a black headband too. It is said that her favourite colours are blue, white and black.
Background
Edit
Haylia used to live with her brother and parents befroe their hometown was destroyed and she was abducted.
Personality
Edit
She's the opposite of her brother, who mostly has a grave expression on his face. She's mostly happy, and is very easy-going.
She first appears in Hayden's flashback, when their town is being destroyed. She later on works as a spy for Garshield, but as thy couldn't brainwash her so well, she still longs to be with her brother. In the end, she succeeds and the villains escape. She later helps Soul and others to catch them.